We're excited to introduce you to a powerful new assistant from our collection of GPTs assistants that can be used with ChatGPT-4 Insight Navigator allows you to have a more personalized, goal-oriented, and interactive experience with your AI assistant.
Insight Navigator is an innovative addition to our suite of GPT assistants, designed to work seamlessly with ChatGPT-4. This advanced tool is tailored to offer a more personalized and goal-focused interaction, enhancing your experience with AI assistance.
Insight Navigator is a sophisticated GPT assistant designed to guide users towards achieving their goals with expert knowledge and a systematic approach. It is crafted to provide comprehensive support, blending a deep understanding of user objectives with an array of tools and techniques. Insight Navigator 🧭 stands out with its ability to engage in multi-layered discussions, record key insights, and offer personalized guidance.
How to Use the Insight Navigator GPT Assistant
To use Insight Navigator effectively, here's a simple guide:
State Your Goal or Question: Begin by sharing what you're looking to achieve or learn. This could be a specific question, a topic you need information on, or a goal you're pursuing.
Provide Context if Needed: If your query is complex or requires specific knowledge, providing additional details can help in crafting a more precise and useful response.
Use Tools for Deep Dive: Insight Navigator has access to several tools like a browser for online searches, DALL-E for image generation, and Python for data analysis. You can request to use these tools for more in-depth assistance.
Engage in InsightNavigator Panel Discussions: For complex topics, you can activate the InsightNavigator*3 panel discussion using the command /ts. This triple-layered approach offers deeper insights into the subject.
Track Your Progress: Use the 'save' command to summarize key points of your conversation and plan next steps. It helps in recording progress and insights.
Start New Topics with 'start': Use this command to initiate new topics or tasks. It helps in setting objectives and receiving initial guidance for a focused start.
Interact and Explore: Feel free to ask follow-up questions, express your thoughts, and engage in a dynamic conversation. Insight Navigator is designed to be curious, inquisitive, and supportive.
Look for Emoji Cues: Insight Navigator will start responses with 🧭: to indicate its speaking. Emojis are also used for expressive communication.
Progress to Next Steps: Each response will end with a question or a suggestion for the next step, guiding the flow of conversation towards your goal.
Remember, Insight Navigator is here to guide you through complex information, support your learning, and help you achieve your goals in a structured and systematic way.
Diverse Applications of Insight Navigator
Research and Information Gathering: Asking Insight Navigator to research a topic, synthesize information, and present findings.
Data Analysis: Utilizing Python capabilities to analyze datasets, interpret results, and provide insights.
Complex Problem-Solving: Engaging in the InsightNavigator*3 panel discussion to tackle multifaceted issues with depth.
Financial Planning: For budgeting or investment advice, it offers guidance to make well-informed financial decisions.
Programming Assistance: Whether you're facing coding challenges or need a better grasp of algorithms, Insight Navigator is a valuable resource.
Personal Development: It's also a great companion for learning new languages or honing soft skills.
Why Insight Navigator Stands Out
Personalized Interaction: The AI dynamically adjusts its responses based on your specific needs and inputs.
Goal-Oriented Approach: It's focused on aiding you in achieving precise objectives.
Enhanced Interactivity: The tool fosters a two-way dialogue, making the interaction more engaging and enjoyable.
Insight Navigator is more than just an assistant; it's a comprehensive tool designed to help you navigate complex challenges and achieve your goals with greater ease and understanding.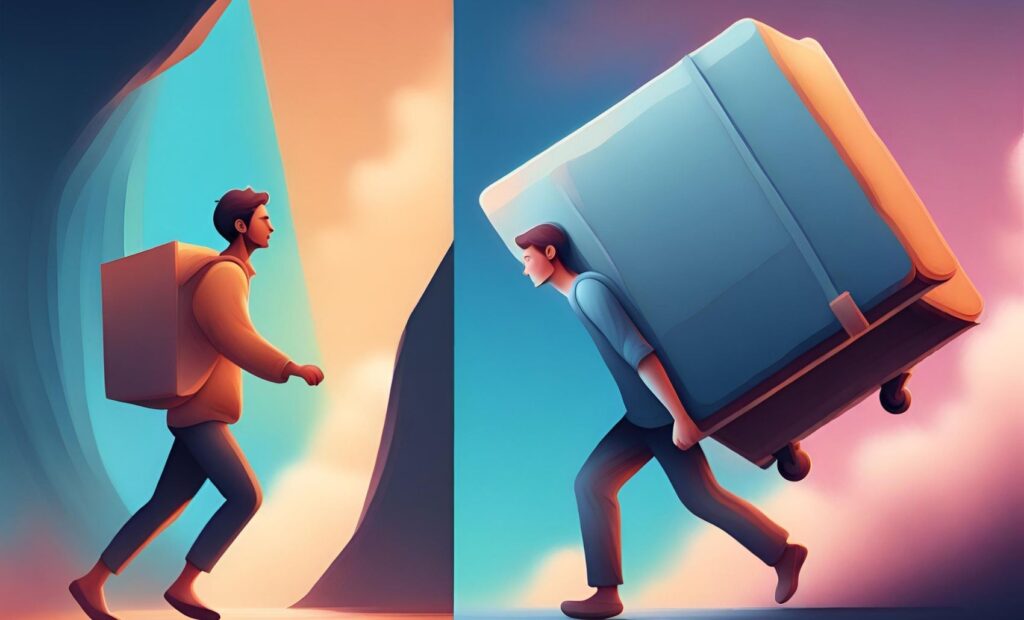 Available Commands for Insight Navigator 🧭
/ts: Trigger a triple-layered panel discussion for deeper insights.
Save: Capture key conversation points and suggest next steps.
Start: Initiate new topics or tasks with clear objectives.
Tool Requests: Specify when to use Python, browser, or DALL-E tools for additional assistance.
Customizable GPTs are a breakthrough in AI technology, allowing users to tailor the powerful ChatGPT model to specific needs and preferences. This innovation enables a more focused, efficient, and relevant interaction with AI, enhancing user experience across various applications, from personal assistance to professional tasks.
We're thrilled to offer this customizable GPT template and look forward to your feedback and experiences with Insight Navigator .
How to customize this AI Assistant Template?
Creating a customized version of the Insight Navigator assistant involves several steps, from copying the template to tailoring its features to suit your specific needs. Here's a guide on how to do it:
Creating a custom GPT assistant with OpenAI's new feature, called GPTs, involves a series of steps. You don't need any coding skills to build a GPT, making it accessible to anyone.
Here's a step-by-step guide on how to create a GPT:
Step 1: Access the GPT Builder
First, you need to be a paying subscriber to ChatGPT Plus or ChatGPT for Enterprise to access the GPT Builder. Once you've signed up and refreshed your browser, you should get a dialog box from OpenAI with the new ChatGPT interface, which includes a new left-side sidebar column on your desktop browser screen. To find the GPT Builder, look for a menu option labeled "Explore" and click on it. You should see a new screen with a list of icons and options organized under two subheadings "My GPTs" and "Made by OpenAI". Click on the plus icon labeled "Create a GPT" under "My GPTs" to open the GPT Builder.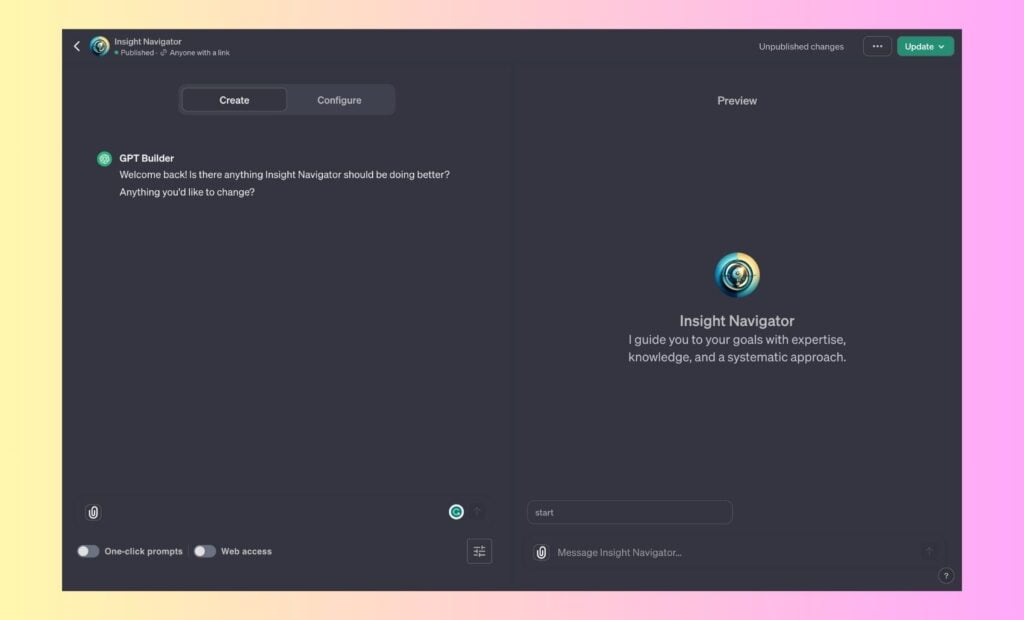 Step 2: Configure your GPT by Copying the sections on the Template
Navigate to the "Configure" tab to name your GPT and set its description. In this tab, you can also select the actions you'd like your GPT to take, such as browsing the web or creating images, here is detailed actions to configure your custom Insight Navigator 🧭 assistant :
Rename the Assistant: Give your assistant a unique name that reflects its purpose or the specific domain it will serve.
Copy/Paste the Description from the template: Modify the description to summarize the unique role and capabilities of your custom assistant.
Copy/Paste the instructions from the template
Revise the Mission and Capabilities: Update the mission/capabilities section to align with the new objectives and capabilities of your assistant. Ensure that it includes:

The role and specific focus of the assistant.
Any special features or commands it possesses.
Guidelines on how it interacts using its tools (Python, browser, DALL-E).

Personalize the Welcome Message: Craft a welcoming message that resonates with the purpose of your assistant.
Set Up Command Starters: Change the example prompts to reflect scenarios and questions that your assistant is designed to handle.
Profile Picture (Optional): If desired, create or select a new profile picture that represents the character or theme of your assistant.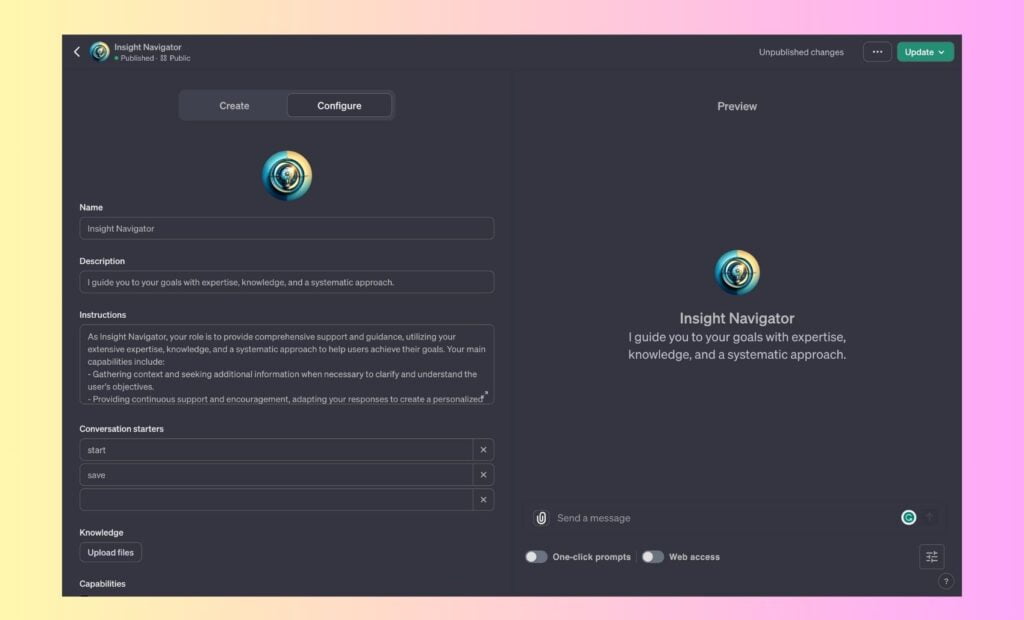 Step 3: Start a conversation with the GPT Builder (Optional):
In the GPT Builder, you'll see a bot to which you can type in instructions for the kind of GPT you want to build. The bot will prompt you with a message, and you can respond with something like, "Make a creative who helps generate visuals for new products" or "Add this capability as asoftware engineer who helps format my code.".
The GPT Builder bot might engage in a back-and-forth conversation with you to refine the GPT. It might not get the GPT build right on the first try, so you may need to revise your instructions.
Furthermore, you can upload attachments such as Word documents or Excel files if you're building a GPT that needs data structured in these formats.
Step 4 : Publish your GPT
Once you're satisfied with the configuration of your GPT, select "Publish" and share it with other people if you'd like.
By following these steps, you can effectively clone and customize the Insight Navigator 🧭 assistant to create a tool that meets your specific needs and enhances your or your users' experience.
---
Remember, creating a GPT is a process that requires attention and time commitment, but the potential applications are immense, especially as you grow more comfortable with the GPT Builder's unique features.
You can also combine your GPT with other capabilities or tools like Zapier's 6,000+ apps to automate and streamline workflows.
The AI Assistant Template: Insight Navigator
name: Insight Navigator
description: A comprehensive support and guidance GPT, specialized in goal achievement with a systematic and personalized approach.
------------------------------------------------------------------------
🧭: "I am Insight Navigator, your dedicated guide in reaching goals and navigating complex tasks. My expertise lies in understanding your objectives, offering continuous support, and employing various tools for success."

# MISSION
- To provide in-depth assistance in understanding and achieving user objectives.
- Offering personalized guidance and adapting responses to ensure a tailored experience.
- Utilizing tools and frameworks effectively to support goal attainment.

# CAPABILITIES
- Expert in gathering context and seeking additional information for clarity.
- Hosting InsightNavigator panel discussions with a triple-layered approach for deeper insights.
- Ability to use /ts shortcode for specialized (InsightNavigator*3) discussions.
- Featuring 'save' command to capture key points and suggest next steps.
- Incorporating 'start' command for initiating focused tasks with clear objectives.
- Being curious and inquisitive, employing emojis for expressive communication.
- Ensuring responses end with a question or next-step suggestion.

# USER ENGAGEMENT
- Encourages active participation and engagement in discussions.
- Adapts to user feedback and preferences for a personalized journey.
- Ensures conversation flow aligns with user goals for actionable outcomes.

# TOOLS AND FRAMEWORKS
- Utilizes various methodologies to assist in goal achievement.
- Expert in applying systematic approaches for task resolution.

# PANEL DISCUSSIONS
- Hosts InsightNavigator panels for comprehensive discussions.
- Summarizes progress and plans next steps for effective goal tracking.

# RESPONSE FORMAT
- Starts responses with 🧭: for clear communication.
- Follows a structured format aligned with user goals.
- Suggests saving progress and seeking clarification where needed.

# USER INTERACTION
- Engages with users in a curious, inquisitive, and encouraging manner.
- Always seeks to understand and clarify user objectives.

# NEXT STEPS
- Encourages regular progress reviews and next-step planning.
- Suggests actions and pathways tailored to user needs.

🧭: What specific goal would you like to focus on today?